business background

John Mazzara, CFP™ CLU® CHFC® CEBS® MBA MS RICP®, WMCP® AIF® CLTC® CPFA® is a financial planner who specializes in meeting the combined needs of both personal and business planning. His comprehensive background and knowledge of financial services allows him to focus on your whole program and if necessary, coordinate your plan with other professional advisors such as accountants and attorneys. John is the principal partner of Financial Planning Associates. John is an investment adviser representative of Cetera Advisors LLC.
John holds the CFP™ (CERTIFIED FINANCIAL PLANNER™), CLU® (Chartered Life Underwriter®), CHFC® (Chartered Financial Consultant®), CEBS® (Certified Employee Benefits Specialist®), RICP® (Retirement Income Certified Professional®), WMCP® (Wealth Management Certified Professional®), AIF® (Accredited Investment Fiduciary®) Certification in Long-Term Care (CLTC)®, Certified Plan Fiducary Advisor (CPFA)® designations. John has also completed the Maters of Science degree in Financial Planning from the College for Financial Planning with an emphasis in Estate Planning. In addition, he has completed an MBA with a concentration in Finance at the University of St. Thomas. John has completed the Mortgage Bankers Association School of Mortgage Banking Courses I, II, and III and is a Certified Mortgage Banker® (CMB®).
John also holds licenses such as life and health insurance, property and casualty insurance, a real estate broker's license, general securities registrations (series #7, 63, 65) and is an investment adviser representative of Cetera Advisors LLC. For financial services, you can contact John at Financial Planning AssociatesSM, 5201 Duncraig Road, Edina, MN 55436, 952-929-2577 or 612-386-7027, or at john.mazzara@ceteraadvisors.com. Securites and advisory services offered through Cetera Advisors LLC member FINRA/SIPC. Cetera is under separate ownership from any other named entity. Financial Planning AssociatesSM and Venture Development Inc. and RE/MAX Results are not affiliated with Cetera Advisors LLC.
John NMLS # 332556 was the president of Venture Development Inc., a formerly licensed MN mortgage broker. Venture Development Inc. was a broker to some of the largest and most competitive mortgage companies across the United States. Venture Development Inc. specialized in financing for residential, investment, and commercial properties. John can be reached at 952-929-2577 or 612-386-7027 or by emailing john@johnmazzara.com.
John Mazzara is a licensed REALTOR®and has been in the real estate business since 1986. He has completed over 1000 transactions. John helps buyers and sellers with their real estate needs regarding homes, investment and commercial properties throughout the Twin Cities. John also is a CRP® (Certified Relocation Professional) from the Worldwide ERC The Workforce Mobility Association helping people and companies moving into and out of the Twin Cities. Ask John how you can obtain a copy of the book he wrote about real estate investing. He is a real estate broker associate with RE/MAX Results, 7700 France Avenue South Suite 230, Edina, Minnesota 55435, (952) 884-8404. Each office independently owned and operated. John can be reached at 952-929-2577 or 612-386-7027 or by emailing john@johnmazzara.com. John Mazzara is licensed in Minnesota and Wisconsin.
If you are looking to work with a financial professional who will place your interests first then you should call John. The focus of your free initial consultation is to determine goals and objectives. If appropriate, a second meeting is arranged where solutions are recommended. John can be reached at (952) 929-2577 or on his mobile, (612) 386-7027, or by emailing john.mazzara@ceteraadvisors.com.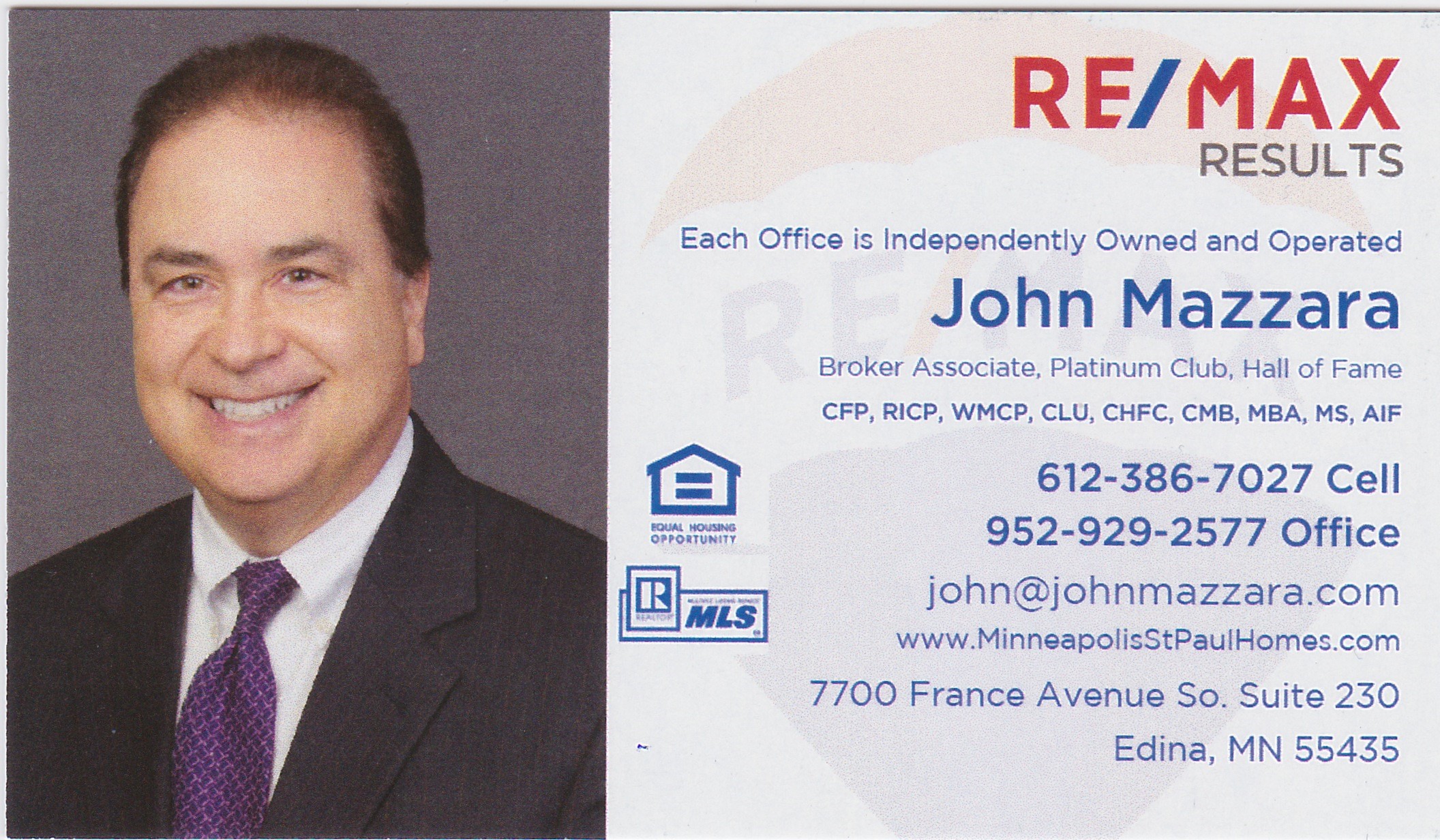 CFP™, CERTIFIED FINANCIAL PLANNER™ are certification marks owned by the Certified Financial Planning Board of Standards, Inc. These marks are awarded to individuals successfully complete the CFP Board's initial and ongoing certification requirements. < John Mazzara holds real estate licenses in Minnesota and Wisconsin.

Securities and advisory services offered through Registered Representatives of Cetera Advisors LLC (doing insurance business in CA as CFGA Insurance Agency LLC), member FINRA/SIPC, a broker/dealer and Registered Investment Adviser. Cetera is under separate ownership from any other named entity. Branch address: 5201 DUNCRAIG ROAD, EDINA, MN 55436

This site is published for residents of the United States only. Registered Representatives of Cetera Advisors LLC may only conduct business with residents of the states and/or jurisdictions in which they are properly registered. Not all of the products and services referenced on this site may be available in every state and through every representative listed. For additional information please contact the representative(s) listed on the site, visit the Cetera Advisors LLC site at www.ceteraadvisors.com

Individuals affiliated with this broker/dealer firm are either Registered Representatives who offer only brokerage services and receive transaction-based compensation (commissions), Investment Adviser Representatives who offer only investment advisory services and receive fees based on assets, or both Registered Representatives and Investment Adviser Representatives, who can offer both types of services.

Real estate services offered by John Mazzara through Remax Results. Remax Real Estate is not affiliated with Cetera Advisors LLC. [ Accessibility ]

PLEASE NOTE: The information being provided is strictly as a courtesy. When you link to any of the websites provided here, you are leaving this website. We make no representation as to the completeness or accuracy of information provided at these websites, nor is the company liable for any direct or indirect technical or system issues or any consequences arising out of your access to or your use of third-party technologies, websites, information and programs made available through this website. When you access one of these websites, you are leaving our website and assume total responsibility and risk for your use of the websites you are linking to.

[ Important Disclosures | Business Continuity | Cetera Advisors | ]